David Chkonia: Large-scale projects that will raise the status of the city are being implemented in Batumi.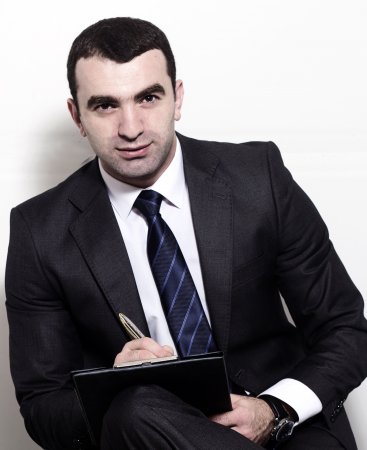 Georgian legislation is becoming more liberal and attracting new investor
International Investment magazine interviewed David Chkonia the legal expert, co-founder, and director of the "Legal Consulting Center" holding, head of the Adjara representative office of the Georgian Association of Employers. Our conversation with David Chkonia is about Georgia, which ranked seventh in the world by economic freedom, a country which investment climate attracts more and more investors from different regions of the world every year. We spoke about business conditions and their convenience which Georgia is famous for, the nuances of obtaining permits, typical mistakes of investors, and free niches for business.
"Legal Consulting Center LLC" holding is a law company with extensive experience in corporate, civil, administrative, and criminal law. The company provides legal and financial services, business consulting, international project branding, project management, management, lobbying, and negotiation. You can contact Legal Consulting Center LLC at: (+995) 598 272 710, e-mail: info@legalconsulting.ge. The head office of the company is located in the Republic of Adjara, Batumi city, at the address: 13, Konstantine Gamsakhurdia st., Batumi, Georgia
-Hello David. We are glad to meet you again. Tell us about the economic situation in Georgia today. Has anything changed for investors since our last conversation? Are there new programs or projects?

-This year and the last two years are much better than previous ones. Everything develops even faster. Serious growth in the economy and GDP is planned in a number of industries, and this is reflected in an increase in the rate of development of the economy as a whole.
Several new large projects are currently being prepared in our region, especially in Batumi. There is a very high rate of development of tourism and the construction business. There is such a tendency that the construction business is aimed at the development of the tourism business now. Before only high buildings with apartments were built and sold simply as residential, now new projects are directly related to tourism. Apart-hotels and hotel complexes, multifunctional complexes are being built. We are currently working on such projects and are confident that these projects will change not only Batumi but the whole Georgia.
Thanks to new large-scale projects, the level of tourist service will reach a new level and Batumi will be able to provide tourists with a higher-quality product and a better service. There are international brands of hotels, restaurants, and shops. This raises the tourist status of the country and attracts even more tourists.
In general, economic growth is observed in the construction and tourism sector. The development of projects will take several years and, I think, will give great results in the nearest future. Also, there are very interesting and significant results in the development of agriculture.
-What are the projects that you do?
-We have 5 projects of international hotels, apart-hotels, and restaurants in Batumi and one very large-scale project, which involves building a recreation zone in Adjara at the moment. It will change the image of the city and raise the tourist status of Batumi.
-What has changed in the legislation of Georgia over the past year?
-Legislation in Georgia is becoming more liberal, and some of the barriers, moratoriums that previously existed for the acquisition of certain types of property by foreigners have now been lifted. This improves the investment potential of Georgia.
The state bodies carried out very important reforms to increase the quality of the services of the Ministry of Justice. Everything develops. We have a lot of plans for the liberalization of tax legislation. We are planning to change the tax code to make the tax system even more liberal.
There are two directions. The first one is to liberalize business law. The second is to carry out reforms to improve the quality of services for all bodies that provide services to individuals and businesses. Already, the business receives public services without any barriers and problems. But the level of services continues to develop. In particular, this year the law on the registration and use of electronic signatures in the House of Justice began to work in practice. This is a very important innovation, which contributes to the improvement of conditions for international business relations. Now you can put an electronic signature in any place and it has an equal legal force with an ordinary signature. Thanks to this, all relationships are moving into a very convenient electronic format, it is possible to do the same things without leaving the office, for which it was necessary to use the services of several bodies before. This and other innovations contribute to the growth of efficiency, quality, and speed of economic relations.
-How difficult is it to register a company in Georgia?
-Georgia takes one of the highest places in the world for the ease of doing business in general and for the ease of opening a company in particular. For example, a company can be registered within one day, without major costs. The state registration fee is 100 GEL, which is about $ 40. The procedure does not require the participation of lawyers and accountants. You can come to the House of Justice and register a company with the help of a registrar. Such a simple system is not known in any other country. In other countries, the process takes a few days. You need to go around several state bodies in order to prepare all the necessary documents. Some of our clients told us that the process of registering companies in Europe, America, Canada and in other developed countries took them about a month. The Georgian system works very efficiently and any foreign citizen will be able to register a company, open an account in a bank, register with the tax service for a maximum of two working days.
-Is it harder to get a building permit in Georgia?
-It is not difficult to get permission, but in recent years, when there was a construction boom, they built it chaotically and without planning. Therefore, now they are trying to regulate the construction business with general plans for the development of the city and other similar projects. On the one hand, in order to direct the construction business in the right direction and at the same time not to infringe the rights of construction companies, and on the other, not to infringe the rights of citizens and to regulate this sphere.
This affects the construction processes and companies, but this process must be conducted in a reciprocal direction. On the one hand, one should not allow chaotic construction and build just something anywhere, and on the other hand, one should not put pressure on the construction business.
In 2018, construction requirements were tightened in relation to fire safety and safety of working conditions. But this process must be conducted in a balanced way: on the one hand, so that there is no dangerous and chaotic construction, but on the other hand, not to put pressure on the construction business. At the moment, the government is trying to balance between these two issues and does it successfully.
The sphere can be regulated by adopting master plans for urban development. For example, such a plan was adopted in Tbilisi. They are going to take in Batumi.
-Does your company provide building permits and company registrations?
-Yes, of course. We also provide full legal services, financial services, and business consulting services, evolution, and branding of development projects, and administrative projects. We conduct consultations for starting a business, and prepare business plans. We are currently working on 6 projects, which include development, branding, construction, construction projects, including the construction of international brand hotels, apartment hotels, restaurants, shops, international networks. Our company is now focused on branding construction projects. There is a huge need for such services at the moment. Such a demand appeared very quickly and we are striving to create all the necessary conditions.
Now we are actively developing management and development, branding of construction projects that involve the construction of international hotels such as Marriott, Wyndham, IHG, Hilton, Intercontinental, and so on. To manage international branded hotels, we attract international management companies to run hotels and apart-hotels. We create concepts for such projects, marketing plans, and sales policy. Together with our partners, we help to present projects in markets in different countries for their implementation. We try to ensure that as many points as possible appear in Georgia, which will be placed on international tourist maps. When such an international brand of the hotel as Marriott, Wyndham, Hilton, Intercontinental and others appears in the city, this city appears on international maps, in ratings, and on the news. This process generally contributes to an increase in the quality of service. When local hotels see that 10 international hotels have appeared in the city, they try to compete and, therefore, they try to meet international standards. As a result, the quality of service standards is changing. International companies are now beginning to dictate the level of service. We are currently working on several projects: 5 projects in our region of Adjara, 2 in Tbilisi and 1 in Azerbaijan. All over the Caucasus, there is now a great demand for international standards and everyone is trying to meet the requirements of tourists from Europe, America, and Asia. We are developing these areas, as they will bring many benefits to the tourism sector of Georgia and the quality of service.
We work with any international brands, including hotels, management companies, shops, restaurants and so on. If an investor has any idea or project, we can provide him with a franchise of any international company.
We help to develop a project concept and sales policy, and with the help of our partners, we help in sales. We do everything so that the project develops at the international level, and not as the buildings of previous years.
-What mistakes does an investor make when coming to Georgia? Many begin to act intuitively and do not cooperate with the experts. How is such an approach justified?
-The first and the biggest mistake the investors make, they come to Georgia and start a business "by hearsay". They came and heard that there are certain niches and they start a business without consulting, without doing relevant marketing research, and they do not study the market. For example, they heard that the gambling business is booming and think they can also success in it. They do not go into details on how to start, what institution can be built, etc. The same goes for the construction business and other areas. The investors think that it does not matter what to build and where to build, it will be sold because this niche is now free and relevant. However, it is not how they think about it. The market should be researched first. It is a mistake that they investors come to Georgia and do not take advantage of a qualified consultation and it turns out that they make some decisions, start business activities, and only then get acquainted with the market.
Our recommendation to all those people who are interested in investing in Georgia is that foreign companies and individuals should first get expert advice, research the market, and then make a decision and start a business.
Georgia offers great opportunities for starting a business, but those opportunities need to be used properly. After the start of activities, the investors think that everything is easy and everything can be done easily, all violations will be forgiven and everything will be getting done without problems, that they will do everything in one day and there is no need for an accountant or a lawyer in Georgia. It turns out that they make both tax and legal mistakes that are very difficult to fix afterward.
We had such a situation in practice when one client had been leading a business for almost a year and when he came to us, we told them that they had certain problems that had to be settled. We asked the client to invite his accountant. However, our client told us that he has not even filed a declaration and he does not have an accountant. It was about a big company that has already invested several million in tourism and construction. The company did not have an accountant, they did not pay taxes, because they thought that in this situation it was not necessary. We have very liberal legislation but it must be respected. Of course, we helped the client, but if he did everything the right away from the beginning, it would have been easier for him and his business.
We deal with two things - we handle problems and create problems. This is a joke but practically this is the work of a lawyer. Rarely there is a mistake that cannot be fixed. The main thing is to come on time so that any issue can be settled as long as when a lot of problems cannot be fixed or changed when a lot of time has passed. It is better to consult in advance to receive a competent service in order to avoid mistakes.
-Who would you recommend to interact with to test the market?
-It is bad to start without getting a professional advice, however, it is even worse to start with a bad adviser. There are certain areas that we can give a consultation about. If this is not our area, we ask our partners for help. Our company will provide a full range of qualified services in such areas as construction, tourism, international transportation, gambling, agriculture, and financial sector. We contact our partners, business associations and other organizations in order to help our customers with other areas. We never give advice, which we are not sure about. We never advise on those issues on which we have no experience or knowledge. Giving a consultation is a very big responsibility.
-Recently, there have been many complaints that the hotel and restaurant businesses are now developing, while other industries are lagging behind. What new projects will be launched soon?
-Georgia is lacking diversity at the moment. You can come to Batumi and get a high-class hotel and restaurant service. The other areas are less developed. We are now trying to direct the investors to other areas to develop the entertainment sector as well. A lot of tourists come to Batumi during the season. I would like to have a large influx in the city out of the season too. To do this, you need to increase the number of entertainment services that are not related to the season. One of the new projects in which we participate is just about entertainment. This will be a year-round entertainment service that will change the status of Batumi.
In the coming years, entertainment will appear in Batumi in greater numbers. We are helping in every way to develop such projects in Batumi, which includes entertainment concepts and services. If in the hotel and restaurant business there is already high competition, in other industries there is no competition, there are no services. Also, Batumi lacks a major serious shopping and entertainment center. In Tbilisi, there are such centers. In Batumi, there is no center where you can go and do full-fledged shopping where there are many brand shops. This is not enough for the city. When a tourist arrives and wants to arrange shopping, he needs to travel around the whole city and this is a serious problem. There is a problem in the absence of entertainment centers, they are only a few. There are some areas that need to be developed in order to obtain the status of a year-round tourist city. There are separate regions where year-round tourism develops. This is Tbilisi, for example. In Adjara region, the winter ski resort Goderdzi is now actively developing, it provides an opportunity to regulate tourist flows so that Adjara is interesting in winter and in summer. We can also increase the flow of tourists by organizing conferences and forums. Tourism is developing but much remains to be done.
-If you yourself invested $ 1 million, what would you invest in?
-If I started some business now, I would build a shopping center with an office building. There is no full-fledged business center where you can find offices of various companies in Batumi. If a business center is combined with a shopping center, it will be very useful for the city, this is what Batumi lacks for sure.
Поделиться в Facebook