How not to buy a "bad" apartment or house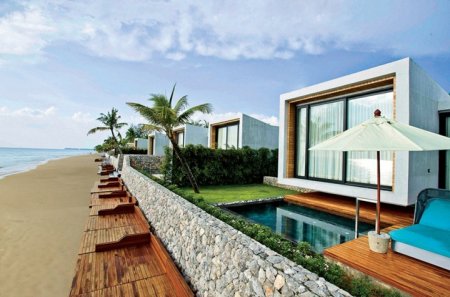 15 factors for choosing real estate by the sea
1. Avoid a purchase based on emotions
The desire to buy a property by the sea, whether it is a house or an apartment, is often very emotional. The buyer seeks comfort in the form in which it appears in his dreams. Many people have the opportunity to walk along the seashore in the morning or to enjoy a panoramic view from a window on the coast or the mountains. You can list things that you enjoy for a long time. But the point is, how dangerous such idealistic concepts without practical thinking. Buyers come to the first more or less suitable facility and, if it makes a positive impression on them, they are ready to immediately tell the seller "yes." Only then, with time, they sometimes realize that they hurried with a choice.
The consequences of a hasty purchase can be a poor-quality construction of the house, or the lack of the possibility of winter residence and so on. There are dozens of possible nuances that can turn such a long-awaited happiness into a constant series of problems. Even if there are no problems, there may be an understanding that the price was overstated and for the same money it was possible to buy a better object in a better place, or that it was worth paying a little more, but to take a better object.
The solution is simple - do not take hasty decisions. You must think, consult with experts (and not only those who are interested in selling you an object), see alternative options. You should review as many objects as possible with the help of different agents. Many people should think about how to spend money on trips to the chosen country, but to study its cities better and understand the situation in the real estate market. A good option is to consult independent specialists. After all, these costs will be much cheaper than an unprofitable purchase of real estate. And do not forget to take a walk in the neighborhood of the house you like in order to understand exactly whether you want to live there.
2. Decide on the purpose of purchase
Before you begin to search for real estate, determine why you need this object. As a rule, there are two purposes: either housing by the sea is bought for yourself, or for investment in real estate, for the purpose of subsequent resale or leasing.
Choice of purposes depends on what kind of property you need to look for. This will simplify the task for you and your realtor. For example, a house by the sea has many advantages, but only if you are going to live permanently in it, or if it is in a complex in which it will be monitored. If you are looking for a place to rest for a month in one year in a purchased house, and to rent at other time, it is better to search for an apartment or house in a protected complex.
If renting out the object is not included in your plans and you want to purchase the object only for yourself, then you can look for an object not so close to the sea, city center or a tourist area. However, if you want to rent out the purchased object, then it is necessary to choose accommodation as close as possible to the sea or tourist center since an object with such an arrangement is easier to rent out. Also, to rent out an object that has a close access to all facilities is more expensive than an object that is 500 meters further. Of course, an adequate pricing will make the object's occupancy higher.
Your freedom in choosing the place for purchasing also depends on the goal. When buying a house or apartment for yourself, you can choose its location to taste: in a secluded place or in the center of a seaside big city. But if you buy an object for investment, you should buy it where the flow of tourists is stable and promises to be higher. It can be insignificant for you whether you can see the sea or the courtyard from your windows, however, it is very important for your potential tenants.
If you buy a house or an apartment for resale, we recommend that you carefully study the dynamics in this real estate market (and not just the optimistic articles of sellers about rising prices). Most of the real estate markets in Europe have recently shown not the best dynamics of price changes. Prices in most markets do not grow. Sometimes they decrease. In the long term (10-15 years and more), your investment will pay for itself. And, probably, today's prices will also be remembered, as now they recall the prices of $ 1,000 - $ 5,000 dollars for an apartment back in the 1990s. You need to understand that in the short term (a year or five years) you can lose if you choose the wrong object for investing money.
3. Understand the situation in the country. Understand its risks
The question of choosing a country for buying an apartment, a house or a villa on the beach is very serious, requiring consideration of possible risks. Read the country reviews on the cost of utilities, taxation, comfort, mentality and other factors that are important to you.
4. Do not become a hostage to paying for a trip
It is a very common practice in the world to pay for travel and accommodation for real estate buyers. This is an attractive factor. This phenomenon positively characterizes a realtor or a building company. However, like any positive factor, it also has a downside. After agreeing with a realtor about paying for a trip, you make yourself hostage to his offer. After a realtor paid for your tickets and settled you, this is when you start feeling obligated to buy the property he offered. What if other realtors have better offers? What if the offered property did not look so attractive, as it seemed to you before the trip?
We recommend that you agree in advance with the realtor about the conditions under which the exact amount of money for flight and accommodation will be repaid to you only if you are satisfied with the offer. In this case, discuss the maximum permissible limits in advance. Most companies providing such a service pay for a flight only for one, a maximum of two people and exclusively in economy class. The same restrictions are applied to living conditions. If the realtor gives you his / her accommodation during the trip, then agree how much you will owe him/her if you refuse to purchase an object. Compare these prices with the local prices for daily rent and decide what is more profitable for you.
5. Deal with a reliable realtor and/or building company
Check the reputation of who you are going to give your money to. Check for the name, company name, phone numbers, and e-mail in the search engines. Look for reviews. Find out if there was a deception of customers. Get acquainted with the documents. In some countries, real estate services are a licensed type of activity. Find out on the Internet whether a license is required for a realtor in the country in which you are going to buy real estate. If so, then demand it. It will be a bonus if you choose a realtor or building company by recommendation. But in this case, you need to be careful. Among people who rarely deal with the real estate market, there is an opinion that most realtors are scammers. Of course, this is not true. Most realtors strive to maintain their reputation, realizing that this is the key to success in their work. But it happens that under the realtor there can be masked a real swindler. This is why it is best to seek the advice of independent experts, which will give you an assessment of the reliability of a realtor.
Is much easier to check the building company. Look at the history of the company's or a builder's work. What objects did he build earlier and what kind of feedback can you find on the Internet? Search on the Internet can be conducted both by the name and by addresses. Look at the construction site itself and evaluate how the work is done there. Talk to the residents of neighboring buildings and taxi drivers, usually, they can tell for how long a certain house was already under construction and how building works go there. It should be remembered that in warm countries the maximum construction period rarely exceeds more than 2-3 years. If the construction is delayed, then there are problems. Visit the houses that used to be built by the company you consider and ask the tenants if they have any complaints about the quality of the construction if you have such opportunity.
6. Carry out a legal inspection of the purchased object

We recommend you to find a lawyer in the city in which you decided to buy a property. A lawyer should not be connected to the company or people who you are potentially going to buy real estate from. This will require small (in comparison with the cost of buying real estate) costs, but it will give you the opportunity to obtain an independent objective legal analysis of the object that you are going to buy. After all, the legal component of the proposed deal can have some nuances, which you can not even guess about. For example, some of the common nuances are hidden payments, problems with putting the house into operation. For example, in Bulgaria, many homes do not have Act No. 16 (on commissioning).
7. Do not believe in low prices without a reason
Every buyer wants to buy a good object for half of its price. And, of course, there are such cases. For example, someone urgently needs money and, to sell faster, is ready to throw off a significant part of the cost of the sold apartment, a house, or a villa. But, most often, such attractive options in the market do not stagnate. They are quickly bought by realtors or close to them second-hand dealers. They rarely reach the open sale.
If you have studied the value of real estate in the country (region) where you are going to buy real estate, and then suddenly you come across a variant much lower in cost, then there should be reasons for this. It is not necessarily cheating. Most often the object has its flaws. For example, the house or an apartment does not have everything in order with the documents. For example, in Montenegro, a lot of houses are put on the market, which does not have a corresponding package of construction permits.
The seller can convince you that this is not a problem and that the house in such condition has been standing already for 20 years, and there were no problems at all. At the moment Montenegro is a candidate for accession to the EU and is now in the process of adapting its legislation to European standards. The owners of illegal buildings will start having problems, fraught with demolitions, fines or other, more severe forms of bringing offenders to justice as this adaptation takes place. A similar process has already taken place in Bulgaria, as a result of which many residential complexes that may look very attractive still cannot receive an act 16. As a result, apartment owners can live in them, use connected communications, enjoy beaches and beautiful views of the sea, however, they do own apartments by the law, therefore, they can not sell their properties or rent them out under such condition. The future of such investments in real estate is very doubtful.
It happens that the low price of the object is due to its low liquidity - for example, the area is considered, for whatever reason, unsuccessful for life. The infrastructure there is poorly developed, the criminal situation is upsetting, or ecology is bad. The quality of construction can also be the reason of a low liquidity. For example, you can buy a luxury villa for less than 100 000 euros, which will have problems with the foundation, so it will slowly slide down the mountainside. Maybe the matter is that the real estate object is good but it is located far from the sea, or from the infrastructure, in comparison with other similar objects, which makes it less attractive for tenants and buyers.
You need to understand that the reason for a low price has to be explained. We recommend you to check the object first on the Internet. For example, to see when it was sold earlier and what was the price. Maybe what is presented as a gift to you have been hanging for two years in the market and could not be sold. If you are buying a private house or a villa, invite a construction specialist with you to view it, who will assess the quality of the facility and tell you the cost of putting it in order, if possible.
If you buy an apartment, talk to the residents of this or neighboring houses and study the situation. Do not forget to consult with a lawyer. Although, of course, if you chose a professional real estate agency, it will not give you a bad object. But to determine the professionalism of a realtor is often difficult for a newcomer. In general, we recommend starting a conversation with a realtor not about specific objects but about characteristics of areas and prices in them (which may vary greatly depending on the area). Choosing an apartment or a house, do not look for a very low price, otherwise, you can lose more in the future.
8. Do not share the optimism of a realtor
Optimism is a must-have feature of a realtor. It is not so easy to find a real estate trader, who will honestly tell you not only the advantages but also the cons of the product offered by him/her. In each country, realtors talk about the growing market, about the perspective of income from leasing and about other advantages. This is not necessarily a lie - a realtor can be very optimistic himself, preferring not to notice negative trends. Ask a realtor a security question "Have you had bad periods in your market (in Spain, Bulgaria, etc.) in recent years? Was there a decline in sales? ". If you get a "no" answer, then you should be on your guard. Since 2008, all European real estate markets have experienced at least one or more periods of decline in sales. In some markets, they are still going on. Therefore, you should arm yourself with critical thinking and take into account that there is a person whose job is to sell his goods. We recommend either to study the analysis on the real estate market you are interested in or to involve independent consultants. If you buy real estate exclusively for yourself, without any commercial purposes, then the situation is greatly simplified - the main thing is that the object suits you, and the market trends play a secondary role for you.
9. Take payments into account when buying a property
In various countries, additional payments for the purchase of real estate may differ. For example, in Georgia, buying an apartment in a new building will cost you zero additional costs. You do not have to pay any realtor, nor pay taxes when buying. You just need to make sure that the VAT payment is due to the building company (the building company takes over the payment of VAT in 90% of cases). The registration of the transaction will cost about $ 50. But, for example, in Italy when buying a new building you will have to pay VAT for foreigners in the amount of 4% to 20% of the value of real estate. In addition, you will be subject to a registration tax (168 euros in a new building and 7% of the cost of an apartment in the secondary market), 1% will be a cadastral fee (and another 2% mortgage). Another 2% will have to pay a notary. Approximately 1500 euros will cost the services of a lawyer when making a deal. In Bulgaria, where it is cheaper, the cost of buying an apartment will be from 0.1% to 1.5% of the notary's services.The tax when buying a property will vary from 0.1% to 3%. Registration will costs you 0.1%. The size of the tax to transfer ownership is regulated by local communities and costs about 0.1% -3%. Together with the services of a real estate agency, the transaction will cost you another 4% -5% of the cost.
For more information on the additional costs of buying a property, its content and tax conditions, please visit our website.
10. Take taxes, utility bills and other costs into account when maintaining real estate
From countries with attractive real estate on the shores of the Mediterranean and Black Seas, Georgia is the only one country without a property tax, in other countries property taxes have already been brought in. If you plan to earn on renting out real estate, then it is worth considering this circumstance in the expenditure part of the planned business. If you take real estate for yourself, the cost of taxes should be taken into account to plan a personal budget. Communal payments are no less important. Their sizes should be found out in advance and also included in the annual budget.
The size of taxes and utility payments, as a rule, have a progressive scale. The larger the size of the housing (or its value), the higher the taxes and payments. Much depends on what object, apartment or house you decide to purchase. The house will cost more than the apartment. In some countries, there is no real estate tax when it comes to an apartment but there is a land tax that will be applied in a situation with a private house (this is the situation in Georgia).
Let's consider a situation on an example of buying an apartment. We will review Spain. The real estate tax will be from 0.5% to 2% of the cost annually. With an apartment at the price of 70,000 euros, you will have to pay about 60 euros in a month(the exact figure depends on a number of refined parameters). The tax itself is paid annually but we translate the calculation on a monthly basis in order to simplify the calculation. Communal payments, including fees for water, electricity, gas (in Spain, central gas is only available in large cities, while others use gas cylinders), payment for condominium, internet, telephone, garbage collection, etc. comes to between 200 and 500 euros. If it is a house (villa) or a more fashionable apartment, the amount may be significantly larger. There are condominiums, the payment of which can be up to 10,000 euros per year. That is more than 800 euros per month.
In Bulgaria, the cost of housing will be much lower. It also depends on the numerous nuances. But if we are talking about a small apartment, then there are high chances to meet the sum of up to 100 or 200 euros.
In all warm countries, your expenses will vary significantly depending on the level of housing, the availability of additional infrastructure (parking, swimming pool, elevator, etc.) in the complex, the season (in winter, electricity costs rise sharply, as air conditioning and heaters are the main means of heating. If you are lucky and you have gas heating, then you will spend on gas, but save on electricity).
In Georgia, an apartment will cost you from 50 to 100 dollars a month. Essential use of savings will come from the installation of a gas boiler.
How to consider all the upcoming costs before buying an object? Clarify the data from the seller for each item (payment in the complex, regular taxes, utility bills, etc.). If you buy an object in the secondary market, ask to show the payments (printouts of bank transactions) for the previous period. If you buy a property in a new building - check the data on the Internet, checking various sources, as well as take the seller's paper with a clarification of the presence / absence in the future of various payments (of course, it is about paying for a condominium, and not about electricity, data about which is on the website of energy supply company).
11. Take the specifics of communications into account
Even the dream of a house on the shores of the Mediterranean Sea can carry an unpleasant surprise. For example, a desired house or villa can be without sewage ... or without gas. Outside cities in Montenegro, there is often a lack of central water supply and sanitation. This problem is typical in many European countries for a suburban real estate. This means that you have to order services for the delivery of drinking water and pumping waste. There is nothing terrible about this but you need to know about it in advance and take such financial plans into account. For example, In Spain, a suburban real estate is often deprived of central gas supply, so it is required to buy gas cylinders.
12. Take the legal status of the object into account
This problem has already been mentioned above. However, it is worth mentioning again. When buying, it is important to make sure that the housing (house or apartment) chosen by you on the seacoast is legalized, has the entire permit package of documents and the property is put into operation. If you are thinking of buying a property in a new building, then it is worth paying attention to the portfolio of the building company and to check whether there have been any problems in the history of the company's activity. If you buy a house or a villa, then in addition to the legal status of the building itself, pay attention to the status of the land. In some countries, a foreigner cannot be the owner of the land (for example, in Bulgaria) and for its registration, it is necessary to create a legal entity-firm. But the creation of a firm can be connected with other problems - payment of taxes, payment of utility services which value is determined not for individuals, but as for legal entities. In addition, the content of the company requires the cost of an accountant, who will submit reports to the tax authorities.
13. Take the quality of construction into account
Real estate by the sea in European countries has experienced two peaks in the construction growth. One took place before the crisis in 2008, the other already in 2010 before today's stagnation of most markets. In this period almost everything was sold out,
In the period of such a rapid growth in demand, local developers tried to squeeze all the juices out of their business as much as possible. One of the products of this money fever were entire complexes of real estate of a low quality. This can be expressed both in a different defect of construction and in the so-called category of "summer housing". This is the housing which does not allow living in it in winter. This problem is the most common in Bulgaria. The lack of insulation of both apartment buildings and private villas is quite common in other southern countries.
There are situations when the house is built okay but the developer saved on the access doors, the windows in the entrances and apartments, which in conditions of high humidity make the house moist, and in winter greatly complicates heating. The consequence, among other things, can be dampness and cold in the house, the appearance of fungus and mold. Therefore, the buyer should be particularly attentive to these issues.
14. Cost of repair work
In Europe, the most common way of selling real estate in new buildings is a finishing. Although, at times, you can see the black frame. The black frame is very common when buying an apartment in Georgia, therefore, it is possible to buy an apartment much cheaper.
However, it is worthwhile to find out in advance how much it will cost to bring the apartment home to a fully finished state in order to calculate your budget. Prices can be at the level of Moscow or pleasantly surprise compared to them. Although in countries such as Italy, Spain or Portugal (not to mention the Cote d'Azur of France), prices may differ and in a less pleasant way. In general, wherever you buy an apartment or a house (villa), it is worth to understand what the condition of the object is when the seller (developer) gives you and how much it will cost to bring it to a residential condition. Often, repair services are offered by realtors or by the developers themselves. This can be the simplest and most convenient solution. However, we recommend calling local repair companies and compare prices.
If you buy a house or an apartment in the secondary market, estimate the expected costs according to its condition and your plans for repairs.
We do not recommend you agree to the repair work until the executor provides full estimates for all work and materials. It should also be discussed in advance that the estimate costs cannot be increased due to any new circumstances declared by him.
15. Location
We recommend you to live in the area in which you decided to buy an apartment or a house for some time. Especially when it comes to a suburban real estate. Often the view of the sea and the natural landscape combined with attractive price and pleasant impressions hide less pleasant things such as the lack of shops, schools, nurseries, hospitals, entertainment infrastructure, pharmacies, etc. Sometimes just the absence of people during off-season can put you off. For example, in Bulgaria, such famous resorts as Sunny Beach or Golden Sands simply die out during the off-season. If you like solitude, then maybe this is what you need. But if you are interested in infrastructure or the demand for this property by potential tenants, then this is worth paying attention to. Often this is the reason for the lower price of an apartment or house. Consider that the same places on the sea coast create a completely different impression in summer and winter.
Поделиться в Facebook